Prices for cottages are valid for one night with breakfast.
In times of school holidays in winter, they represent 50% of stay.
Without receipt of a deposit within 10 days of reservation request, it will not be taken into account.
Checks will be made payable to "Laura Hennebois. By return mail we send you a receipt for the amount of deposit paid for the reservation and confirmation thereof for the dates and the number of people you've listed.
We take no CB, no vacation check. Our friends the animals are not accepted.
The linen and towels are provided. You have, in the living room, a refrigerator, a microwave, kettle, coffee maker, a large table for a picnic or dinner.
It is not possible to cook on site. We can provide plates and cutlery. More info, here. Possibility of loan cot.
Internet access, broadband cable is available for free. The house and rooms are non smoking, but you can smoke outside in covered patio.
Booking room

"Belledonne"
Booking room "Claran"

Rate per night

1 person

52 euros

2 people

55 euros

3 persons (on request)

69 euros
Laure has training from the hotel school in Gerardmer (Vosges) and a great leadership experience in a large international hotel chain.
Her passion and expertise we have a natural incentive to welcome you home.
Our cottages are referenced to the tourist offices of Allevard (Isère) and Rochette (Savoie) and at the main sites dedicated to tourism. They are also labeled by the association-Isère Cheval Vert and recommended by the French Federation of Middle Mountain.
Our cottages are reported in city hall as the
law
requires it, we're not "professional renters", the concept of profitability is not our main concern.
Our capacity is 7 people, this guarantees a certain level of calm, tranquility and privacy
...
We kept our independence, therefore, our cottages are not affiliated with Gites de France Isère or network Clevacance. However, we wanted to offer a level of comfort at least three heads or three keys. You get, for example, a living-room of 70 square meters. Particular attention was given to the mattresses ...
Hot water(450 liters) is produced by 6 m2 of solar panels to limit use to clean our boiler fuel.
We have almost 50% of economy and reduces our releases.
A facility (21 m2) of solar panels has been completed, we are now producing a clean electricity.
We also opted not to use paper to let us know.
We're not advertising paper,
pamphlet
or other information booklet.
A little bit more in addition to others ...
It also allows us not raise our rates.
Our budget only "pub", we dedicate our site.
Take time to visit, clicking the smallest link. Soon.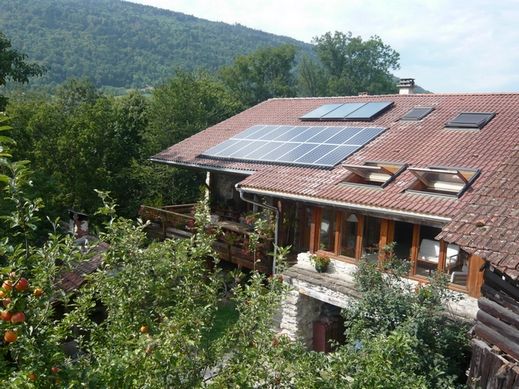 TripAdvisor Traveller Rating

Based on 20 traveller reviews
TripAdvisor Ranking #1 of 1 B&Bs in La Chapelle-du-Bard
Most Recent Traveller Reviews

11 Mar 2018:

"Excellente adresse"

12 Jan 2017:

"Superbe"

27 Nov 2016:

"Pierre, bois et chaleur"

7 Sep 2015:

"À découvrir"

10 Mar 2015:

"La perfection !"
© 2018 TripAdvisor LLC
Au Vieux Four à Pain Bed and Breakfast. Isère